(credit: Google images)
Oracle user groups are wonderfully diverse and knowledgeable technical communities. They've been around forever and they offer many benefits to their users. I've even read someone's explanation on how being part of one has directly changed their life. My career is certainly forever changed based on my involvement, and I am thankful that I made the choice to pursue this passion.
Oracle customers and partners cross my path frequently in my line of work. A little part of me dies when I find out that someone has never heard of a user group. Therefore, I felt it was imperative to write a blog post to discuss the importance and benefits of these career-changing communities.
What is an Oracle User Group?
Although each Oracle user group is different, their mission is the same: to share knowledge.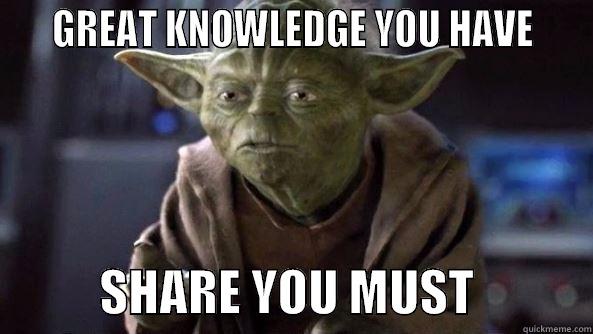 (credit: Google images)
The point of an Oracle user group is to bring people together around a specific topic and to educate each other through experiences, personal expertise, and thought leadership.
Oracle user groups are usually volunteer-driven, with the larger ones being supported by a paid management company. They can exist at a national, regional, or local level. They may be further subdivided by a specific set of Oracle products. Meeting formats may include social get togethers, sharing technical or thought leadership content, and/or formal networking.
Most Oracle user groups offer free education and membership. Some Oracle user groups host conferences (single or multi-day events centered around education), that may be either paid or free. Some Oracle user groups work closely with Oracle and some have no direct relationship with Oracle. The larger, more national-level user groups are usually too large to survive on no budget and may have several streams of revenue, such as paid conference registrations, paid memberships, paid advertising, sponsorships, etc.
My History with Oracle User Groups
For 6+ years now, I've been heavily volunteering with Oracle user groups. I started with ODTUG at my first ever ODTUG conference, Kscope (back then called Kaleidoscope), in San Antonio, Texas in 2012. It's been a wild and crazy journey since then. I've been fortunate to be directly involved with the Kscope conference every year since, and I was even elected to the ODTUG Board when I ran back in 2015.
Since then, I have broadened my Oracle user group reach. A group of us local to the Dallas-Ft. Worth area decided to rekindle the NTxHUG (North Texas Hyperion User Group) back in 2014. Since then, we've grown and we now run a free, quarterly meeting. Oracle speaks regularly at these meetings, openly sharing product roadmap updates and answering questions. We also present technical sessions, forums, and panels. We throw in a bit of fun with a social ice breaker and social hour at every meeting. We're fortunate to have tapped into the local Oracle community, so we are mostly made up of customers. It's a good core group of folks and it's nice to be able to connect to the local talent and technical community.
In addition, a number of other Oracle user groups have allowed me to join in on their fun. I've spoken on the user group conference circuit for: RMOUG, OAUG, and IOUG, as well as regional and local user groups.
A Testament to Volunteers
The passion and perseverance of the volunteers is what keeps Oracle user groups going. Without volunteers, user groups can't exist. The recipe for a successful user group includes: determination, valuable knowledge, passion, and a shared mission.
However, it's not all take, take, take. Direct involvement in an Oracle user group can impact your career in a positive way, expand your circle of friends and peers, keep you educated about the goings on with Oracle products and the industry, and open you up to new and wonderful technologies that you didn't realize you were interested in yet.
But if you're not convinced by my preamble above then keep reading. The second half of this post covers 3 reasons why joining a user group could be the best career move you've ever made.
Reason #1: Education
(credit: Google images)
The first reason is the most obvious one – to learn. This is the main driving force that I've seen motivating people.
Perhaps you're lacking expertise in a particular area and hope to fill that gap. So you attend a meeting. As you get more involved, you realize…hey, there are gaps that others have, too. Then the light bulb goes off – you have something to offer as well. And so the cycle of knowledge sharing begins.
But it's not just the simple art of giving and receiving. It's also about the quality of what's learned. I love Oracle user groups that are heavily customer-influenced. I find that customers learn the most from other customers – how they're using a product, what is and isn't working, the user experience, the best design for a specific industry, and more. Then layer in the expertise of an Oracle partner member who's done many implementations across multiple customers and industries, as well as has a pulse on what's up and coming with the products, and you have the recipe for valuable education.
One final thought related to education…Oracle user groups are usually independent of Oracle. Therefore, you'll hear the good, the bad, and the ugly. The true user experience. Straight talk. That, my friends, is priceless when you're making a software investment.
Reason #2: Expanding Your Network
(credit: Google images)
The second reason why Oracle user groups are career changing is because of networking. Looking for a job? Go to a local Oracle user group and ask if anyone is hiring. Want to find out which customers locally have your same issues? Maybe you can meet over coffee and discuss what you share in common. Need an implementation partner? Find out what partners are all about at a national user group – perhaps one specializes in your particular product or has an answer for your burning design question. A national conference is a wonderful venue where Oracle partners showcase their expertise and culture.
Networking is a powerful, yet constantly underutilized gift. You can find your next job or next career by networking. You can find lifelong buddies at Oracle user groups. I certainly have and I'm proud to call these folks my friends.
Reason #3: The Pleasure of Giving Back
(credit: Google images)
Sometimes the attraction to an Oracle user group is simple – to give of yourself. What if you could save someone a week of frustration by sharing a simple solution to their issue – is that worth attending one meeting? What if you could help empower another user to be better and more successful at their job? Isn't that worth attending every meeting?
Find a Oracle User Group…STAT!
Looking for a local, regional, or national Oracle user group? Here are some resources to get you started: