(Photo courtesy of Twitter #C19TX)
It's now been 3 years in a row that I've been accepted as a speaker for the Collaborate conference. Since most consulting firms have a policy of sending only speakers and Sales to conferences, I'm very grateful to have these opportunities and to be recognized for my technical skills. This year's Collaborate was the best one yet, and I was thoroughly surprised how much I enjoyed the location in sunny San Antonio!
Due to some scheduling conflicts, I ended up inheriting 2 sessions from my company on top of the 2 that I already had accepted. And I was asked to be on a non-technical panel. So 5 sessions this year spread across 4 days – an all-time record (and stressful)! But, as usual, it was all worth it in the end.
For me, the best aspect of this year's Collaborate conference was being able to network with old and new friends. Many of my peers were not at Collaborate this year, so I took advantage of the opportunity to branch out from my usual comfort circles.
Sunday
Sunday started out rough. I missed my early morning flight. Yes, you read that correctly. In my 35+ years of travel, I can count on one hand how many times I've missed a flight due to my own idiocy. This was one of those times. I picked an early flight on a Sunday morning…what could go wrong?
I made the most of it. I grabbed a new suitcase (that's another story), breakfast at this super cool diner right outside of Dallas Love Field:
…and got to catch up on the news before my new flight 2 hours later.
However, then the thunderstorms hit. For anyone traveling into Collaborate on Sunday morning, you know exactly what I'm talking about. This was by far the worst turbulence that I've experienced in a long while.
Once I touched down, I caught a ride with my new Dallas APEX friend, Tony Esposito, to the convention area and then checked into my hotel. Then I had to run errands and eat lunch before my first speaking session at 3:00pm. (Note to self: onsite printing is super convenient…and super expensive!) Luckily, my session covering an OAC implementation at a large healthcare customer went very well. I was a stand in for my Oracle ACE Director buddy and fellow interRelite, Tracy McMullen.
Later that day, the Collaborate conference received some interesting news. OAUG, one of the 3 Oracle user groups hosting Collaborate, had changed their name:
(Photo courtesy of Twitter #C19TX)
As someone who has previously served on an Oracle user group Board, I can tell you that a rebranding of any sort is challenging. It costs lots of money to change over logos, website branding, collateral, etc., and lots more time to ensure that the message is passed down to the masses. Kudos to OAUG (now OATUG) for choosing the Collaborate conference to do this, maximizing your listening audience.
What was also interesting about this news is that this big user group change comes off the heels of fairly recent big news impacting the other 2 user groups hosting Collaborate. The IOUG and Quest merger was voted through. So what this means is that next year Collaborate will potentially be hosted by only 2 user groups: the newly named OATUG and Quest (who absorbed IOUG).
Aside: The Quest-IOUG merger communication, as I told my friends at IOUG, was one of the best that I've ever seen. IOUG and Quest communicated the idea of a merger through multiple channels, held a live town hall, held a special communication session at Collaborate, whipped up a super detailed and thorough FAQ, and started their re-branding at Collaborate. It was very well done, and I wish both IOUG and Quest well. I think the decision made a lot of sense and I hope it means great things for both user groups.
Great job all around to the Collaborate hosting user groups for your change management efforts. Many important changes at Collaborate this year!
Later Sunday night, I attended the IOUG Welcome Reception. I thought the IOUG party was quite lively. Being a Texan myself, all I could think was…this room is so Texas! The food and crowd were great, and it was nice to catch up with folks who I haven't seen since last year's Collaborate.
During the IOUG Welcome Reception, my Collaborate bestie Alfredo Abate was recognized for winning the esteemed Outstanding Regional Leader award. Well done, Alfredo, and definitely deserved!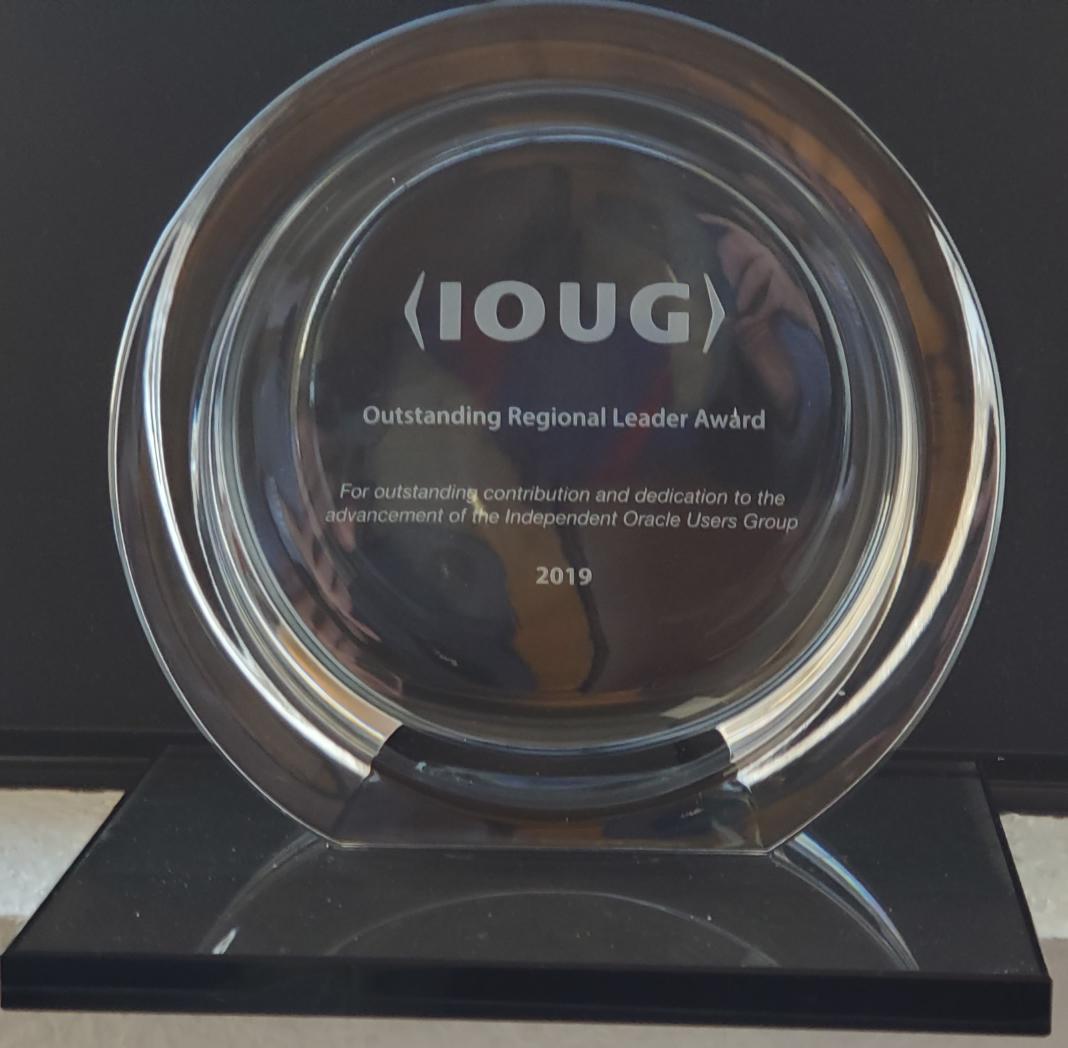 (Photo courtesy of Twitter #C19TX)
Even later Sunday night, I attended an Oracle #ACED dinner with many lovely ladies in the program. Thanks to Jennifer Nicholson for allowing us to get together and talk all things WIT (women in technology). It was a respectful and intimate discussion of personal experiences and ACED opportunities. I truly appreciate the relationships I have with each one of these strong, empowered women and I feel honored to call myself an ACED amongst them!
(From left to right: Jennifer Nicholson, Mia Urman, Michelle Malcher, Debra Lilley, and me)
Monday
On Monday the only session that required me to speak was the Community panel with Jennifer Nicholson and the other lovely Oracle ACE and ACED ladies. Therefore, I didn't have a ton to prepare throughout the day. So I attended EPM and BI sessions in the morning!
The first session I attended was the Keynote by Stacy Hanke called "Be the Leader You Were Meant to be Monday to Monday". It was interesting and she's a very professional speaker. We were asked to stand up and do an activity with one of our neighbors. Fun stuff. This was the most full I had seen the main stage all week:
Next, I attended Al Marciante's Oracle EPM Strategy and Roadmap. To jump ahead to the conclusion those of you in the EPM world are wanting: not much has changed from a roadmap perspective regarding on-Cloud and on-prem. 11.2 is expected to be released in July. FR (Financial Reporting) was confirmed to be supported at least through 2030 on-prem with 11.2 (and of course for a number of years in the Cloud). And, as usual, Oracle has thought very carefully about the features they plan to develop in Cloud. They have an extensive roadmap for each product.
Next, I attended the OATUG Analytics, BI, and Big Data SIG: Oracle Strategy Update and Case Studies, hosted by the SIG. I'm always impressed with the SIG presentations at Collaborate. They do a good job of sharing valuable and useful information.
For lunch, I met up with my fellow interRel speaker, Kevin Whalen, and my IOUG buddies Alfredo and Shawn McElhinney. Shawn and I had been Twitter friends up until this point. We became Collaborate buddies quickly.
Luckily, I was able to find items at lunch that were approved by my current diet (low cal, high protein, high vegetables):
In the afternoon, I spoke for a few minutes at Jennifer Nicholson's session about the value of community. A number of us ACE and ACED ladies spoke on the topic and told our personal journey stories, as well as answered questions from the audience:
Finally, the last session I attended was the Oracle Keynote "A Platform and a Path to the Cloud". This was more of an hour-long commercial for Oracle Cloud (to be expected), but it was reminiscent of something straight out of Oracle OpenWorld. Very impressive customer stories!
In the early evening, I met my interRel team for a customer happy hour. I forgot how good the salsa and guacamole is in San Antonio. The margaritas are even better! I was also reminded of just how hot Central and South Texas can be. For those of you non-Texans out there, you won't know until you've lived it. I normally reside all the way up in North Texas where the highs were in the 70s and 80s during Collaborate week. San Antonio is in Central Texas which can turn into an armpit fast. As I was walking to the customer happy hour in the super bright and unyielding sun, my sweaty face glanced at my Apple Watch and realized the horror that it was 94 degrees outside! It's early April, peeps!
Monday night is when the Oracle ACE dinner is held. So I met up with my ACE friends and we sat together and chatted up a storm.
A few of us even closed down the dinner!
(From left to right: Michelle Malcher, Debra Lilley, me, Alfredo Abate, Daya Punniyamoorthy, Erik Benner, and James Lui)
Tuesday
Tuesday morning included my professional development session. This is always my most highly attended session at Collaborate, and because of this, it causes me the most stress. I always want to do a good job. I spent most of the early morning practicing it and ensuring that I was comfortable with the flow.
Once I had practiced a few times, I went to sessions. The first one I attended was "How to Measure Success of an EPM Project" by Lee Anne Spencer from Mindstream Analytics. She used to co-own the last consulting firm that I worked for. Although I didn't know her back then, it was nice to see her in action, passionate about EPM project ROI.
Then I went to lunch. I cut it short due to frazzled nerves about my session, which was scheduled directly after lunch.
Next was my professional development session about effective management. I had originally submitted this as a fishbowl session which is a super cool format. Unfortunately, Collaborate was unable to accommodate the seating arrangements and a/v for this type of session, so I knew I was going to have to improvise. After scoping out the room the day before, I put my plan B together and got to the room early to ensure everything was in order. It was a hit and I thoroughly enjoyed the high level of inter-activeness and stories shared from the audience!
One of the strong points of Collaborate is their high number of customer case studies for Oracle EPM and BI. Although I work with customers on a regular basis, it's always valuable to hear how other customers and partners handle challenges and design their Oracle solutions. After my session, I attended "How to Implement Oracle Analytics, BI and Big Data: Customer Case Study Panel", hosted by Kirby Lunger of Performance Architects. I found this session to be of very high value. The customers chosen were engaging and they all had unique situations and stories to tell.
Next, I went to visit the ODTUG kiosk in the exhibit hall. It's always great to see Jill Colsch, who works for ODTUG. If you ever see Jill at a conference please stop by and say hi. Not only is she just an awesome human being, but she'll tell you everything you need to know about ODTUG:
Since I knew Wednesday was going to be filled with my last 2 sessions of the week, I cut back to the hotel for the second half of the afternoon and made sure I was prepared.
Tuesday night I hung out with my fellow interRelites and grabbed some drinks on the rooftop of a nearby hotel bar, as well as dinner. It was fun and the food was good (and above my daily calorie limit 😕). We laughed about the different stories from the week and then Kevin and I went to party with the Conference Room Pilots.
The Conference Room Pilots is one of the best events at every Collaborate and I have to say that I've been fortunate to attend their shindig every year. In case you don't know what they're about, they're a group of Oracle enthusiasts that started a band. The event kicks off with an opening band to rev up the crowd. Then the Conference Room Pilots play rock covers for 1-2 hours.
They usually play in the House of Blues in Mandalay Bay in Vegas every year and the event fills up fast. This year they were at the Aztec Theatre in San Antonio and it was fabulous. The venue was super large, with a nice dance floor and seating. It was Kevin's first Collaborate so he got to experience their awesomeness for the first time. Great job, guys! And a special thanks to DSI, CSS, Avalara, DWS, and US-Analytics, who sponsored this really great event!
Wednesday
Wednesday morning started super bright eyed and bushy tailed with my first session of the day, and my fourth overall session at Collaborate. It was an 8am session on CLOUD EPM SECURITY! Can I get a "hey" in the house? I felt like I was back in college in my 8am accounting class. Do brains really function this early?
To be honest, I wasn't sure if anyone was going to attend. I was pleasantly surprised when twice as many people than I estimated showed up (which was a one digit number to begin with, but I'll take it!). The session went OK. This was another inherited session, and I was filling in for my buddy, Pete Puskar, who is the security expert at interRel. Shout out to Andrew Tauro for his added expertise during this session.
Next up, I had a break before my last and final speaking session. I attended "Add Advanced Analytics into PBCS". This was an interesting and geeky session put on by Huron and PARC Consulting. They talked about how they implemented this.
The third session of the day was mine again – my last session for the week! This was a "0 to 60 minutes" hands-on lab introducing the very basics of DVD. It went well and I was glad the audience was able to finish everything within the allotted time.
Next was the WIT luncheon! Each year that I've attended, Collaborate features a woman in technology, usually one with a military background to speak to us while we eat. This year her name was Julie Walker and she was in the US Air Force:
The lunch was fabulous (although maybe not optimal for my daily calorie limit):
After lunch, I attended a session by Doug Ross (Performance Architects) called "Bet the House: Using Oracle DV Machine Learning to Predict Sports Events for Fun (and Profit?)". It was one of the most interesting sessions I attended (DV and ML are hot topics right now) and Doug is a great speaker.
As the day started to come to a close, I attended a session by Kate Helmer and Noah Yao at Huron Consulting called "A Little Cloudy on Your Master Data Governance Strategy? Oracle EDMCS vs. DRM/DRG". This was a fantastic broad stroke comparison of EDMCS to DRM/DRG. They've done it before and I heard it was great then. They will also be presenting it at ODTUG Kscope19 – I highly encourage anyone going to Kscope who hasn't seen this one before and is interested in Oracle's master data offerings to attend, as it is well thought out.
During the conference scheduled break, I went down to the ODTUG kiosk again and spent some time with Jill and my ODTUG friends. Even snapped a pic with one of my party buddies: Stewart Bryson!
For the last session of the day, I attended Jason Jones' (of Applied OLAP) session called "Docker & Essbase – Bring the Cloud to You". Jason Jones has done some amazing things with Essbase, his own self-built tool called DrillBridge, and now Essbase and Docker. On Github, he has all the steps required to put Essbase in Docker. I just discovered this a few weeks ago myself, and was enthusiastic to attend his session.
In the evening, it was time to party now that all of my sessions were done. And when it's time to party, people, it's time to party.
First was the *best ever* Collaborate Attendee Appreciation party. Collaborate went all out this year, taking advantage of the River Walk near the Convention Center. I was impressed with all of the interactive activities. Some photos and videos:
(From left to right: Shawn McElhinney, Alfredo Abate, me, Kevin Whalen)
After the appreciation event, it was time for the after party. And for many of us in this industry that means finding a piano bar in the vicinity. So we made our way to Howl at the Moon and the second half of the party began. Really great times, everyone!
(A homage to the Quest-IOUG merger. Photo courtesy of Twitter #C19TX)
(From left to right: Stewart Bryson, Michelle Hardwick, Shawn McElhinney, Kevin Whalen, Karen Cannell, me)
This was by far the latest night. I was good all week, getting to bed by 11pm each night. Wednesday night of Collaborate I made it to bed some time in the wee hours of the morning.
Thursday
Collaborate runs half a day on Thursday. Unfortunately, I had to get back to reality. I worked all morning and was unable to attend any of the final sessions of the conference. With outstanding emails, calls, and meetings with customers, it went by very quickly. But man, I was tired and dragging.
I used the afternoon to hang out with friends. My buddy Alfredo and I had lunch on the River Walk. Then we met up with our other buddy Shawn at the airport. Once travel time arrived, we all had to face whatever mad weather waited for us on the way back home. We were all delayed (although, to be fair, mine was due to a tray table issue on the plane…only a 10 minute delay for me!).
Reality Check
The end of a conference is always bittersweet, as you're not sure when you'll see your conference friends again. You're hoping to see your "family" at the next conference, but sometimes that's an entire year away. And sometimes your friends leave the industry and you may only see them in that rare occurrence when travel plans align.
And although I'm showing all of the fun photos and videos, every conference is a ton of work. Weeks went into preparing for the sessions. In addition, it takes much out of a person to give up their entire Sunday, travel in bad weather, and be "on" 13+ hours a day. We get through it by poking fun at ourselves, commiserating with those in the trenches with us, and through the support and love of our families who never seem to understand the madness but cheer us on anyways.
I wanted to share the above because I understand how social media can sometimes distort reality and paint a picture of unicorns and rainbows, when that's not real life 24 hours a day.
~~~~
Overall, this was the best Collaborate conference I've attended. If they ever go back to San Antonio, I wouldn't hesitate to submit to speak. A big thank you to the hard working IOUG, OATUG, and Quest teams behind the scenes who have to put together this monumental conference every year. From one conference chair to another, I applaud you. It's hard work and often filled with thankless tasks. Fantastic job, all!
The Collaborate conference is back at Mandalay Bay in Las Vegas next year, from April 19-23, 2020! Hope to see you there!