As the saying goes, you don't miss something until it's gone. Or in the case of Kscope22, sometimes you don't realize how much you've missed something until you get it back.
It's been 3 years since the last in-person conference. I personally feel this loss since I was the last in-person Kscope conference chair at Kscope19 in Seattle. The world that has emerged looks and feels very different than the one before.
In some ways, the evidence of how much time has passed was clear at the conference. Many people's circumstances have changed greatly. Some past ODTUG'ers have moved out of consulting/industry, some have moved out of Oracle, and some were exposed to or had COVID and had to drop out at the last minute.
Yet, it was a fantastic Kscope. The gang got back together and it was glorious. There were many squeals of delight as friends reconciled after 1, 2, or even a full 3 years of not seeing each other. The catch-up sessions were longer than usual. There were many hugs, smiles, and laughter. The ODTUG family reunited.
And although many of the family members have changed and it was a smaller crowd this year, the core and fabric of what ODTUG is and what it represents were not lost this year. In fact, it was amplified.
This slideshow requires JavaScript.
The Good
The best part of the conference for me was seeing everyone again. This didn't include just my close friends, but my extended EPM friends, my broader cross-community ODTUG friends, ACE friends, and Oracle friends. This year's Kscope was the first conference I've attended in person since Kscope19. That's a long time without real, social interaction.
Another plus for me was seeing the Oracle EPM and Analytics product management teams. Most of the EPM team showed up and presented a variety of sessions. I tried to attend as many as I could.
Oracle has done a fantastic job hosting plentiful Cloud EPM Cloud Customer Connect webinars during quarantine. However, a regulated and controlled communication platform can't beat in-person social interaction. It's nice to see the real human gestures and facial expressions of the Oracle EPM team versus blank Zoom avatars. 
Next, how do you handle a large group of people in the midst of COVID? I think the conference handled it as well as they could while respecting individual choices. Hand sanitizer and masks were provided. Guidance was given in advance on how to handle attendance if you felt sick. Most people did not mask (including me), and I think we all understood the risk we were taking.
Finally, the venue was local for me, so it was nice not having to travel. Now that I've been working from my home office for over 3 years straight, I have to say that I enjoy this lifestyle. All of my work has been 100% remote since the pandemic was announced. At my older age, I honestly don't miss travel.
The Not so Good
What was it like being back at an in-person conference? There were quite a few vocal complaints this year shared by conference attendees. So let's just get these out of the way. The quality of the conference suffered in a few notable areas in this comeback year.
First, the biggest complaint: the food. Breakfast was continental (no hot dishes), and lunch consisted of a cold bag lunch. As a past conference chair, I will tell you that one of the biggest costs is food and beverage. ODTUG has prided itself on hosting one of the only national conferences with fantastic food. Now imagine not earning your main revenue stream for 2 years but still having to pay bills, then having to put on an expensive conference with inflation and unexpected cost surges? I feel for the conference committee. It must've been a super tough 3 years navigating the planning of each conference around COVID, a downed economy, and severe inflation. 
Next up is the attendance. It was higher than I expected but noticeably lower than years past. If I had to guess, I would say it felt like it was about 2/3 of the Kscope19 conference. This sense of lower attendance was palpable with the fewer amount of exhibit hall vendors and session attendees. The fact that it was held at an enormous Gaylord property exaggerated the effect. Next year's conference is at another Gaylord property, however, I expect overall numbers to be up next year.
In addition, the 25th-anniversary party was lackluster. This was my 11th Kscope and I don't recall attending one where the Wednesday night special event was onsite at the conference property or hotel. This year's silver commemoration checked all of the boxes on paper: open bar, free food, dance floor, live band, casino, and a costume theme. But for whatever reason, it wasn't as exciting as years past. We made the most of it on the dance floor. I hope the revenue injection from this year's conference helps next year's special event venue.
One thing the conference committee couldn't control was the weather. Texas is hot, y'all. In North Texas, 100 degrees (Fahrenheit) is fairly normal in summer. But what's not normal is encountering this crazy heat wave during the first 2 weeks of summer. This must've been stifling for the out-of-towners.
Finally, as expected, all conferences this year have been super spreader events for COVID-19. Kscope22 was no different. There are still reports rolling in about people who are testing positive. At least the symptoms I'm hearing about are generally short-lived and minor. I managed to come away unscathed, but that has also been the story of my quarantine. 
Observations About Kscope22
One of the most amazing things for me was hearing stories from peers about what they've gone through in the past 3 years. The failures. The loss and devastation of loved ones. The divorces. The near brushes with death. The reclamation of happiness. So many people have been through so much during quarantine. And so many have fought their way through it and have come out better on the other side. I really enjoyed sitting down with both old and new friends and listening to their stories.
In addition, the normalization of telling these types of stories was an interesting social change. People are more open, vulnerable, less judgmental, and, overall, better listeners. Just about everyone has a story to tell and they just want to tell it after 2.5 years of crap. We all went through this global pandemic together. It's a shared human experience like no other and it impacted everyone. Sometimes people just need an ear and a hug to get through the day. 
There is something special in the bonds of our extended work family. It goes beyond knowledge, even in a competitive industry like Oracle EPM. For example, one of my accepted sessions this year was a cross-company panel for EPM reporting. Although the panelists selected were all competitors, we know each other from afar but have respect for one another, and so we shared the stage (and with Oracle) with no issues. It was just…fun. And it was one of the more interesting panels I attended. It's just the way this community is, and you can't recreate that magic anywhere else. For those of you who couldn't attend Kscope this year, you missed out. Luckily, next year you'll have another opportunity to rekindle those bonds.
Finally, as some of you know, I've been living out my own interesting journey. I quit my full-time job nearly a year ago and have been doing part-time independent work. I'm happier than I've ever been. What I discovered after this Kscope is that I've really come into my own in the past year. Several people remarked on my happy disposition at the conference, which surprised me. Thank you all for your support.
The Controversy
(Note that this section is a bit tongue-in-cheek and slightly dramatized for effect…)
Now let's get into some titillating discussion. Of course, every conference encounters some controversy. Now that I've retired from ODTUG leadership, I am free to comment on user group activities. 😉
One of the controversies happened in ArganointerRel's vendor session. At the very end, Edward Roske announced his candidacy for ODTUG Board Vice President. He also announced Elizabeth Ferrell (who I love and adore for being an amazing leader and kickass woman – see this post here) as his running mate for ODTUG Board President. Edward and Elizabeth have never served on the ODTUG Board.
For those of you who don't know, you can't "run" for an ODTUG Board officer position (e.g. President, Vice President, Treasurer, Secretary). Assuming things haven't changed since I served, these positions are appointed by the sitting Board at the beginning of each year. So first you have to earn a seat on the Board. Then you have to win the respect of your Board peers to earn their vote for an officer position.
Was it a stunt? After speaking with both of them, not necessarily. They are intending to submit themselves for the ODTUG Board election in September of this year. Will they get voted in? You can help decide that by being a part of the voting body by becoming an ODTUG-paid member.
And by the way, I have no idea who I'm voting for yet – I'd like to see who all is running first. This is not an endorsement – I'm simply sharing lesser-known information about how things work behind the scenes to avoid confusion during the 2022 ODTUG election. The ODTUG bylaws prevent the Board from being able to endorse candidates and speak publicly on such matters, so I'm throwing in my two cents.
My Kscope22 Takeaways
The things I will remember most about this year's Kscope conference:
The hello and goodbye hugs that lingered a few seconds longer because you realize what you have missed

The number of "I love you" and "love you" statements, and from people I've never exchanged these words with before. Life is too short not to tell people how you feel about them. Love comes in many forms and friendship is one of the most beautiful.

The powerful feeling of gratitude we were all experiencing together to be back at this event in-person

The overwhelming urge many of us felt for our underdog, ODTUG, to come back stronger and better next year

Although 3 years have gone by, in some ways it seems like no time has passed at all. That's a testament to the strong ties that bind us in this community.
Next Year's Kscope
Kscope23 will be in beautiful Aurora, Colorado.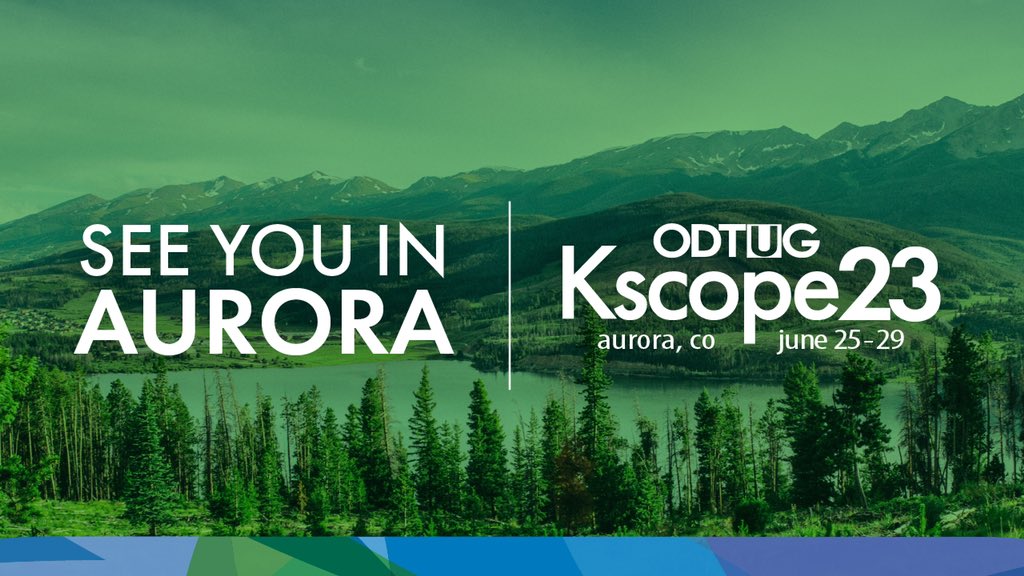 I'm rooting for Oracle user groups. They have taken an unimaginable hit in the past 3 years, with many devastated after no revenue from their annual conferences. I won't go into the long list of benefits of in-person conferences (check out any user group's website to find out more), but after being away for so long, I'm glad I rekindled this flame. I feel energized, rejuvenated, and ready to earn my way into Kscope23.
Hope to see you there!
Related Posts
ODTUG Kscope19: A Fond Farewell
Kscope18: Conference Chair Tales